Get away for a while….
Contact with nature …
Release tensions….
Gain insight into how you want to proceed …
You can rent an apartment and be completely on your own. You can also opt for support tailored to you. For example, every day for an hour or a few hours a week.
In the winter months I, Eef, spend a lot of time in Portugal, in a beautiful place in the Algarve, near Lagos. You can choose to hold your retreat there, on an old 'quinta', an Erve 2.0, with the advantage of clear skies, sun, sea nearby and a wonderful climate.
There is a family constellation day a few times a year. A beautiful enrichment in your retreat, with profound, enlightening and liberating insights.
Feel free to call if you have any questions or want to know if it might be something for you.
Based on your question in a (usually short) conversation and with my expertise, insight, empathy and being guided, we look at what you want to give attention to. Where things can get simple again, because sometimes life seems so complicated.
By means of a cranio-sacral treatment you experience where you limit yourself and how you can give yourself more space. You can experience this first-hand, because of the deep relaxation it opens you to feelings and insights, which is why we often start with it, after an introductory conversation.
I use voice and sound to deepen the effect. Every body cell resonates to the sound; the sound vibrations hit us everywhere allowing sound to harmonize our entire human system. Especially the sounds of the human voice: after all, that is so unique and recognizable to the receiver. Moreover, the sounding and expressing itself has a liberating effect. Working with sound is based on the effect of the vibrations of the sound itself.
A family constellation and an explanation of spiritual points in your horoscope give recognition and insight into where you are going, what you come here to experience and bring and what you still have to clear up, what karmic family themes are.
Paying attention to your breathing and meditations give your life more depth and fulfillment and bring you in contact with the wholeness and beauty of this moment. You experience how to live from a state of Being in which everything is good as it is.
Emotional healing: still feeling through unprocessed experiences with the consciousness of now, melts the frozen energy of fear, pain, sadness, shame, anger, rejection, loneliness.
Insight into and feeling (making contact with) different parts of the brain during a cranio-brain treatment gives a deep rest and helps you out of the grip of perfectionism, (self) criticism and destructive life patterns.
Awareness exercises and meditations that you can also do at home ensure that it has an effect in your daily life.
Sometimes a walk with conversation is a suitable addition.
All this, together with staying in a nice apartment in nature and also going into nature yourself, offers the possibility for a greater sense of self-esteem, sense of life and living your qualities from the wholeness of this moment. This allows you to do better both in your private life and in your profession and your contacts.
In addition to personal guidance
If you want more care, you can usually cook organic and/or vegetarian/vegan
You can participate in a daily silent meditation
In principle, there is a weekly joint tea moment with guests in our Living Room and on Monday evening (sometimes Friday evening) there is a join-in meal that you can participate in.
You can also borrow inspiring books and the chi machine is at your disposal
You can of course enjoy the special place and free-roaming animals; they give a lot in themselves!
Why would you do a retreat here?
You can board at any time, also often last minute
It is tailor-made: the counseling offer is in consultation and can be adjusted as needed.
Bodywork is a direct entrance, also for mental processes
No cancellation because a group is not full, it always goes on
For people who can be quite independent with their process, there is no full-day program
There are (almost) always like-minded people here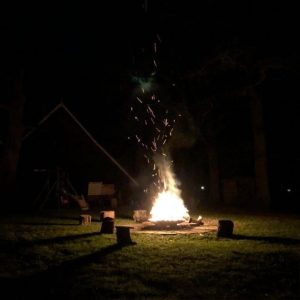 When you feel burned out, you can give yourself a gift of peace and support during a stay at Erve Veldink. We have a deep faith in the peace and healing effect that nature gives you. By means of cranio-sacral treatments, sometimes with some massage, supplemented with sound and other sessions and conversations, you can achieve awareness, relaxation and healing.
Nature in all its fullness surrounds Erve Veldink. Eef van Leeuwen can offer body work and awareness: in the form of craniosacral therapy and sound; Eef also uses family constellations, spiritual astrology, voice dialogue and others. Delicious organic meals can (usually) be provided.
I can't say it better than a client.
Your treatment was an extraordinary experience. I am particularly impressed by the wisdom and intelligence of my body. It has filled me with a deep awe. Outside, along the fields and in the forest I could find peace and refuel. Within, with you, I could discover parts of myself that were so deeply hidden that I couldn't reach them myself. So I couldn't live to the fullest. I feel a lot happier, have faith in life again. Also "my little house" gave me the security, protection and heating that I so needed. It all fit perfectly. Many thanks, Eef, for your loving care and attention.
You can choose from several options. To try it out, you can start with a weekend or midweek. Ideal if you can go out for a longer period in between, eg a few weeks; then you have plenty of time to start your trial. This is of course a radical change and not feasible for everyone. The form of 1 midweek (or long weekend) per month or 2 months can also mean a big step forward, depending on your degree of burnout. In principle, you can receive guidance when you need it. With intensive guidance and for a longer period, a reduction on the prices mentioned is possible.
A price example: 1 midweek in your own apartment with 5 hours of supervision (1 to 1½ hours daily) costs €444, see Costs for price specification. A week with 5 hours of guidance costs €555; if you can make the time, take a week! Especially when you need it badly, you shouldn't take it tight: it will yield you even more, especially in relation to your (financial and energy) investment. With a sequel you pay 5% less. Organic meals cost € 15.
Program example midweek (€ 444)
Monday from 14:00 arrival and a little later (or on Tuesday) a first treatment (sound or cranio or combined). I like to start with a cranio treatment to get to a deeper layer of yourself, that works throughout the week. It gives a lot of relaxation and recognition of who you really are, in addition to better physical flow and space in your body, in the evening if necessary. participation in the side-by-side meal (3 courses for € 19.50).
Tuesday a day to go into nature and possibly. to do breathwork yourself (with CD accompaniment)
Wednesday possible a 1 on 1 family setup, coaching based on spiritual points in your horoscope or other session.
Thursday a follow-up cranio-sacral treatment, sauna use (not included) or a rest day.
Final talk on Friday and departure.
With a full week retreat, there may also be a weekend session, depending on time and how it suits you.
Use of an apartment from Monday 14.00 to Friday 11.00 (based on the basic price in low season; possibly surcharge for high season and for a more expensive apartment than De Pauw)
Sheets, towels and final cleaning.
The talks and massage or cranio-sacral treatments are included for a total of 5 hours. The treatments last 1 to 1.5 hours. The prices mentioned here are for private individuals including VAT and tourist tax, with a business invoice the prices are exclusive of those taxes.
Participation in a daily silent meditation is free of charge.
You can use the chi machine throughout the (mid)week.
During the introductory meeting we discuss the program, and if necessary we can adjust it. Usually we start with a cranio session, often combined with sound. Addition with extra conversations, sessions or treatments is possible, and the classification can be changed, eg in connection with different appointments or needs.
For more information or to make a reservation, please contact Eef van Leeuwen, tel. 0545-261448 or by email eef@erveveldink.nl
Of course you don't have to wait until you are really burned out …